IQOption Review
Quite new on the binary options market, is the broker IQOption. Already are they one of the leading brokers in Russia, which is their main market.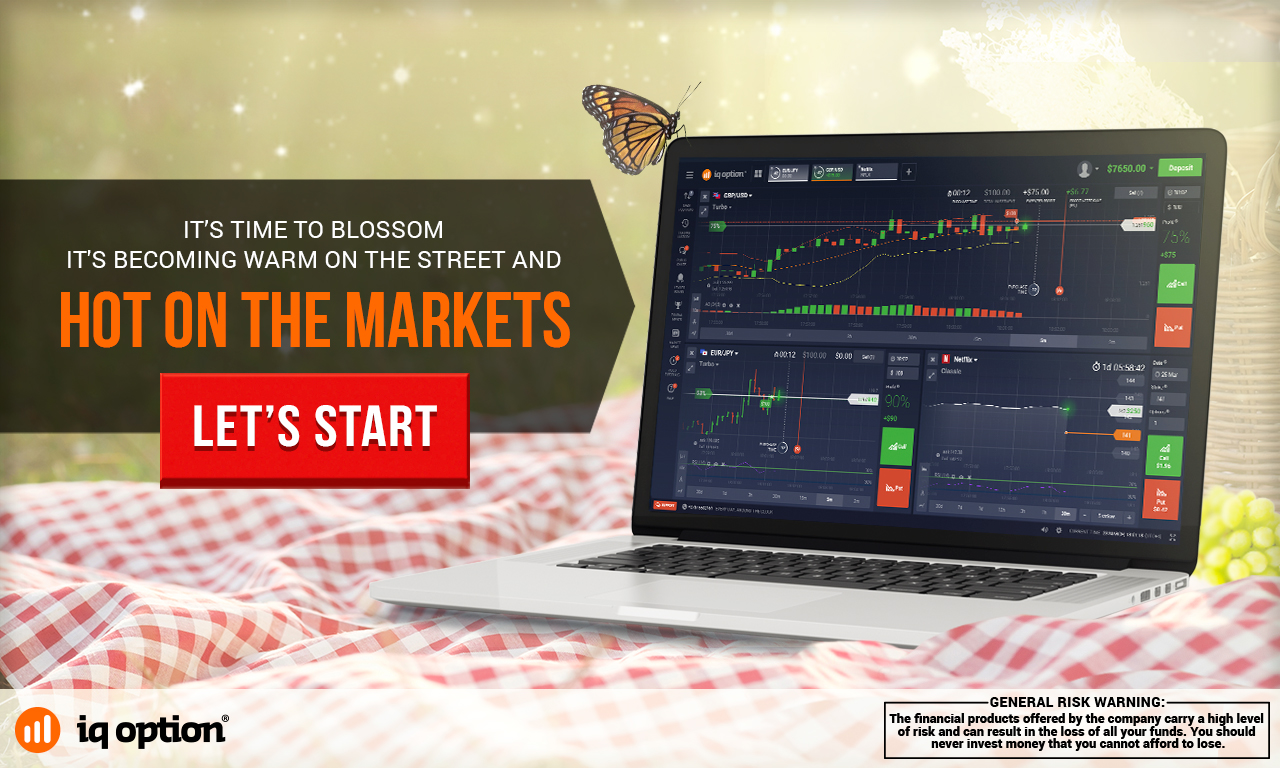 In House Trading Platform
IQOption has created an exclusive in house trading platform which is very much different than the platform other brokers use. For experienced traders this might take some getting used to, but after a while the platform will be easy to use and to navigate. Whether it is better than the more generic platforms is matter of opinion. However, the in house trading platform of IQ Option offers better safety, because their tech team should know all the inner workings of the software.
The in house trading platform of IQ Option is of course equipped with some necessary features. Most importantly the platform is mobile friendly and can be accessed through an app on both iOS and Android. At this time it is only possible to trade options using the usual High / Low method. Other extras such as Turbo Trades and Fence Strategy are integrated, but none of the other trade methods such as No Touch.
Start trading with IQ Option
An account with IQOption can opened with a minimum deposit of 10 EUR / USD. This is shockingly low compared to other brokers, who require at least ten times as high a minimum deposit. In addition, when making higher deposits, starting from 100 EUR / USD, IQOption grants an extra of 20%. Deposits can be made through all kinds of payment methods. Credit card is the most widely used methods, but Money Wallets, Neteller and Wire Transfer are all accepted. Withdrawals, on the other hand, can't be made in as many ways. And, of course, since IQ Option focusses mainly on Russia, their platform is one of the few which is completely in the Russian language. Other language, such as Spanish and English, are also available.
Besides being able to open a normal trading account, traders on IQ Option also have the ability to open a VIP account, which grants more benefits. And users also have the ability to start a demo account, completely free of charge. This allows for risk-free testing of IQ Option's trading platform. For traders who are new to binary options starting with a demo account is ideal, and IQOption is the perfect broker to start with, because they also offer an extensive learning program.
Payout percentages
Apart from being able to open an account with only very low minimum deposit, IQ Option also offers its traders payout percentages which are higher than most. In some cases payouts of 92% can be earned on a successful trade. If that wasn't enough, IQ Option also generously returns 65% of the investment when a trade is lost. This makes for a very beneficent trading experience with low costs but high returns. With its low minimum deposits and high payout percentage, IQOption is definitely one of the better brokers for new traders who want to start trading with as little risk as possible.
Asset List
Even though IQ Option does not offer any other trading method than High / Low, they do offer a large database of assets to choose from. There are, roughly, 76 different assets which can be traded with through IQ Option. These are of course divided in 4 main categories, namely: stocks, currencies, commodities and indices.
Customer Service
The customer service of IQOptions excels on the Russian market. However, they are also capable to handle multiple other languages such as Spanish and English. The helpdesk can be reached from 09:00 until 23:00 by phone, Email, Live Chat, web form and Skype.
Strengths
As was mentioned previously, IQ Option is among the best brokers available for Russian traders. The trading platform is originally in Russian and they support Rubles. Other benefits traders receive when opening an account with this broker is a low minimum deposit with high payout percentages and a good amount of assets to choose from. And because their trading platform is created and designed in house, they can offer professional reliability and security. Lastly, IQOption is a perfect platform for beginners to start with. A demo account can be opened completely free of charge, together with numerous educational tools.
Weaknesses
One of IQ Option weaknesses is the fact they offer no other trading methods than High / Low. This slightly limits traders and might result in a boring trading experience. However, the upside of this is that trading is straight forward, making everything a bit simpler and basic. There are however some different additions to trading, namely Fence and Turbo Trades.
IQOption Review Final Verdict
All in all, IQOption is a very adequate broker. Those traders who are based in Russia do not have a better choice of broker, IQOption is practically the best for the Russian market. This doesn't mean they are not a good broker for other parts of the world. They possess all the tools with which every trader can be given a proper trading experience. High payout percentages definitely make IQOption interesting for traders who are looking for the best profits on each binary option. And with the absolutely lower than low minimum deposit necessary to start trading give IQ Option an edge no other broker can even remotely compete with.
So, whether you're Russian or not, IQ Option is a good broker to trade with!